Igniting Customer Engagement
Brand Building Communication must be seen not as a traditional one-way channel, but as an interactive, integrated & ongoing engagement with customers.
We help convert your 'consumers' into 'customers' through effective Engagement.
More than ever before, brands cannot afford to talk at their customers from an arm's length. Engaging with customers at every stage of the purchase and usage cycle is key to Brand success, especially in today's age of parity products and services.
But we all know that "Engagement" is more than "Experience". It is the win-win quality of that Engagement, at any and every touchpoint, that determines how a brand is perceived, and whether it resonates with its audience. We will help you define and implement the highest quality of Brand-Customer Engagement that leads to creating long-term Customer Loyalty.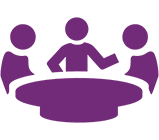 Effective Brand Building

The IGNIVA Workshop

A better trained brand team will deliver effective solutions more consistently than others.